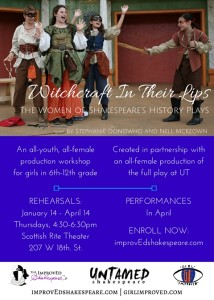 | by Andee Kinzy |
A beautiful project fell into my lap this December. I just happened to see a post about auditions for a new play centered on the women in Shakespeare's history plays. A few emails went back-and-forth and an amazing partnership was created.
Imagine that you're new to Shakespeare. Imagine that you're a girl. Imagine finding out that girls didn't even play the female roles in the Renaissance era. Doesn't really forge a strong connection, does it? Well, this didn't stop Stephanie Donowho and Nell McKeown. These two young women spent their studies at the University of Texas creating a new play out of eight. Culling from the histories, and using only Shakespeare's verse, they have adapted the events from the women's perspective.
And they're letting ImprovEd Shakespeare in on the game!
We are partnering with them to workshop an adaptation for youth. They're using an all-female cast, and so are we, but our players are a bit younger. This relationship affords a unique opportunity for the girls and women involved: a chance to discuss characters that are being performed at the same time by other actors; a chance to look at a scene with a different age-related viewpoint; a chance to share challenges and successes; and a chance for girls to outnumber boys in a Shakespeare production!
We're very excited – aren't you? You have another week to get involved. Visit our enrollment page for more information!