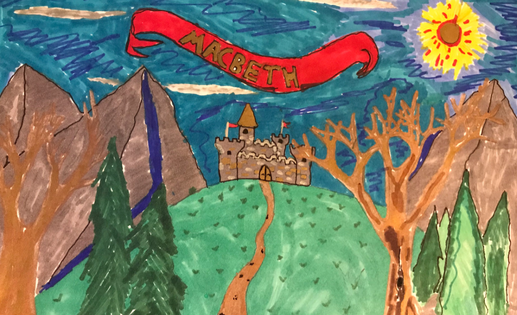 Art by Macduff and First Witch
ImprovEd Shakespeare's
MACBETH

Written by William Shakespeare
Adapted and Directed by Andee Kinzy
"Something wicked this way comes…" The ninth most popular Shakespeare play to be produced, our version of Macbeth takes you back to the days of lore. Performed by a cast of youth performers in an historic theatre, with plenty of audience interaction, ImprovEd Shakespeare's Macbeth is perfect for families and all ages. Packed with murder, madness, witches and battles – what kid can resist? Come early for the pre-show!
DATES:
NOVEMBER 18th-19th
SATURDAY
11am (Cast A) & 1pm (Cast P)
SUNDAY
1pm (Cast P) & 3pm (Cast A)
LOCATION:
Austin Scottish Rite Theater
207 W 18th St
Austin, TX 78701
FREE
With limited seating – please make reservations! Come early for the pre-show (20 mins before start time). All performances include a brief talk-back with the players after the show.
What's the difference between Cast A and Cast P?
Cast A is a group of fourteen youth players between the ages of 8-12. Oddly enough, this cast only has one female player. Cast P is a group of twelve youth performers between the ages of 10-15. Both cast bring their own unique interpretation to the show.
Recommended for kids of all ages. Want to learn about the story in advance? Check out our blog post: Prepare for Macbeth.
Performances run about an hour. The Market will be open with concessions and goods for sale. Please bring cash.

*Tax deductible donations can be made through our fiscal sponsor, Austin Creative Alliance. Scroll down to ImprovEd Arts.*