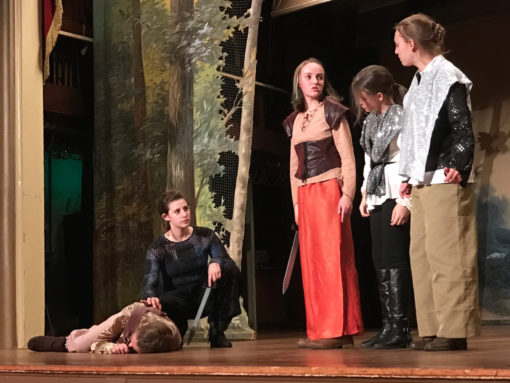 UNDERSTANDING MACBETH
| by Andee Kinzy |
Here at ImprovEd Shakespeare, we firmly believe you should get to know the story before jumping into a Shakespeare play. In honor of our spring production, we want to share some resources with you.
YouTube:
If you like YouTube, we have a playlist on our channel:
Studies: Macbeth
For a short written summary:
No Fear Shakespeare* – No Fear Macbeth
*Note: No Fear Shakespeare has a useful modern translation next to the original text. (Although, many Shakespeare academics barf at the modern paraphrasing. Grin.)
Shmoop** – Macbeth
**Note: Okay, this site depends on the family. Shmoop is very tongue-in-cheek. There are lots of subjective comments inserted into the summary and a few "older" annotations (like "PITA" and "WTF?"). However, it's entertaining for a quick overview of the story. And, yes, Shakespeare academics barf at this, too.
Royal Shakespeare Company Synopsis of Macbeth
*Note: They have additional interesting explorations into the play in the menu on the left.
Absolute Shakespeare website – Macbeth
Tales from Shakespeare by Charles and Mary Lamb
So this is an old and old-fashioned book. The link above is to one of those publishers who has reprinted the out-of-print classics. We're a bit annoyed because this particular publisher omits Mary Lamb's name from the cover (totally lame!). The book contains longer synopses of multiple plays with antiquated phrasing. Some kids enjoy it. Others don't. You might be able to find one of the older versions used. Or you can read it online for free! – Hamlet
Beautiful Stories From Shakespeare by E. Nesbit
Also old-fashioned and the printing situation is similar to the Lamb's book above. Nesbit's version is slightly more modernized than the Lamb version. And it's online for free, too! – Macbeth
Shakespeare Stories by Leon Garfield
Out-of-print, but you can find it used on Amazon or at your local library.
Tales From Shakespeare by Tina Packer
Out-of-print, but you can find it used on Amazon or at your local library.
For alternative versions:
Macbeth (No Fear Shakespeare Graphic Novels) by Ken Hoshine
A graphic novel version put out by No Fear Shakespeare.
Macbeth (Graphic Novel) by Gareth Hinds
Macbeth #killingit (OMG Shakespeare) by Courtney Carbone
Hamlet diluted to 140 characters or less. YOLO, right?
Manga Shakespeare: Macbeth by

Richard Appignanesi

Brick Shakespeare: The Tragedies-Hamlet, Macbeth, Romeo and Juliet, and Julius Caesar by John McCann
Legos and Shakespeare!
Stick Figure Macbeth Comic by Mya L. Gosling on GoodTickleBrain.com
In fact, visit the entire Macbeth section on GoodTickleBrain. It's well worth it!
Macbeth: A Prose Translation (The Shakespeare Novels series) by Paul Illidge
Line-by-line, Illidge has created a prose translation of the entire play.
Tales from Shakespeare by Marcia Williams
Macbeth For Kids (Shakespeare Can Be Fun!) by Lois Burdett
For the younger crowd. Has illustrations by kids and is "modernized" into rhyming couples with quotes from the play peppered throughout.
Background:
Entire play:
MIT has all of Shakespeare's works available for free online – Macbeth
Or visit your local library! As to the editions/publishers? It's up to you, but:

No Fear Shakespeare – Macbeth
As we said above, we like No Fear for younger readers. Some people hate it, because they feel the paraphrasing is inadequate; but we think it's highly readable if you want to quickly get the gist of the story.
Arden Shakespeare: Third Series – Macbeth
Many actors like the footnotes in the Arden editions.
Folger Library Shakespeare – Macbeth
Quite a few readers like the layout of the annotation in the Folger editions. Many high schools use this edition.
Simply Shakespeare – Macbeth
Similar to No Fear: a modern translation side-by-side with the original verse.
Shakespeare Made Easy – Macbeth
Also has a modern translation side-by-side with the original verse.
Film versions:
A short note about "modern translations." Serious Shakespeare academics and scholars feel that starting kids off with these versions is abhorrent. At ImprovEd Shakespeare, we appreciate the modern translations. We view them as a jumping off point. Sometimes you come across a phrase that just doesn't make sense. Without being immersed in Shakespeare's language, it can be hard to understand. A modern translation helps a-plenty. It helps you to appreciate the beauty of Shakespeare's words.
In any case, there's no one right way to approach Shakespeare. The trick is to find what works for you.
We hope these resources are helpful to get you started on your journey with this play!