| by Andee Kinzy |
Here at ImprovEd Shakespeare, we firmly believe you should get to know the story before jumping into a Shakespeare play. In honor of the full-length Shakespeare productions in Austin, we want to share some resources with you.
UNDERSTANDING COMEDY OF ERRORS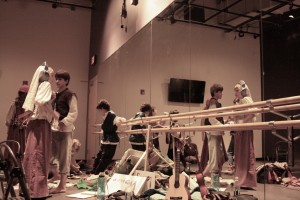 YouTube:
If you like YouTube, we have a playlist on our channel:
Studies: The Comedy of Errors
For a short written summary:
Royal Shakespeare Company Synopsis of Comedy of Errors
*Note: They have additional interesting explorations into the play in the menu on the left.
Beautiful Stories From Shakespeare by E. Nesbit – The Comedy of Errors
*Note: Also old-fashioned. By E. Nesbit of "Five Children and It" fame.
Shakespeare Stories II by Leon Garfield
For alternative versions:
No Fear Shakespeare
*Note: No Fear Shakespeare has a useful modern translation next to the original text. If you want to read the entire play, we enjoy using No Fear as a resource.
Utah Shakespeare Festival Comedy of Errors Study Guide
*Note: If you want to go deeper into the play.
Film versions:
For those who wish we could travel to London for some Shakespeare plays, Digital Theatre makes films of British stage productions. This one promises to be delightful for the kids: The Comedy of Errors
We hope these resources are helpful to get you started on your journey with this play!
Save
Save