ACTING, IMPROVISATION, STORYTELLING
and SHAKESPEARE

ImprovEd Shakespeare's
COMEDY OF ERRORS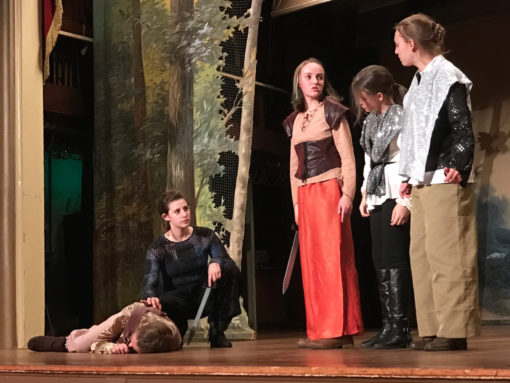 An all-girl site-specific live-streamed theatrical piece*
Directed by Andee Kinzy and H.Cherdon Bedford
For intermediate – advanced FEMALE* actors
*or those who identify as female
6th-12th grade
*What does a site-specific live-streamed theatrical piece mean? Since theatrical venues are closing in Austin and we want to reach larger audiences, we're experimenting with a way to merge theatre and film. ImprovEd Shakespeare's Director, Andee Kinzy, and Humblebee Media/Austin Film Meet's, H.Cherdon Bedford, are partnering together to create this unique production.
DATES:
Wednesdays, February 8th – May 3rd, 2017
Spring Break: March 15th
Extra rehearsal (tentative): Sunday, April 30th
TIMES:
3:30-6pm

PERFORMANCES:
COMEDY OF ERRORS FEST
May 4th-7th, Thursday-Sunday
ImprovEd Arts Studio, 5pm-9pm*
*Estimated Performance Times: 7pm
LOCATION:
ImprovEd Arts Home Studio, 10111 Oliver Dr., Austin, TX 78737
—
TUITION:
$275/student (full payment) – Siblings: $250
$100/student (monthly payment – February-March-April) – Siblings: $90

Note: We are producing a documentary of the ImprovEd Shakespeare process during the production class this spring. If you are uncomfortable with your child being in a documentary, please take this into consideration.
************
Our focus is on Shakespeare stories and performance skills, rather than academic study. We follow a non-traditional production process in that we layer skills and technique on each individual child's instincts and personality. We celebrate what a child brings to the character and aim to grow her or his skills organically, rather than to follow a prescribed academic study of character. Performing with a Company of Players requires great trust in your peers. Each rehearsal has strong attention given to team-building theatre and improvisation games, as well as scene work and acting technique.
The production classes premiere a signature ImprovEd Shakespeare script each Fall and Spring. The scripts are a mix of original Shakespeare text and modern narration. One judge quipped, "It's 'Our Gang' meets Shakespeare!" Because of a truncated rehearsal process and targeted family audiences, performances run under an hour. In honor of a true Renaissance traveling troupe, emphasis is on costumes with few props, limited sets, lights and sound. In addition to acting in the piece, the Company of kids is responsible for running their own production.
Enrollment is per semester: Fall and/or Spring. Participants who continue throughout the year are given first priority.
ANDEE KINZY, Director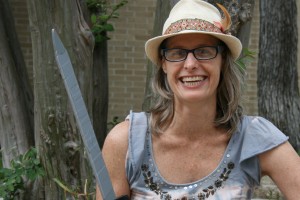 In third grade, Andee Kinzy was given the opportunity to produce, direct and act in a play she penned called "The Bad Day." That did it; the theatre bug was firmly entrenched. After doing a lot more shows, winning awards and trying out a bunch of theatrical styles, she earned a BA in Drama from the University of Texas and sashayed off to NYC. There, she trained at various studios (Meisner, Method, Voice (with Shane Ann Younts) and Improvisation) and performed in original plays and indie films. Then she branched out into directing her own short films and running a non-profit women's film organization (CineWomen NY, absorbed into NY Women in Film and Television). Through it all, she continued to work collaboratively with her peers, until one day she realized that she was an adult and her 'peers' were kids. Never one to be swayed by expectations, she feels that every child's experience with the arts is unique. She uses a mish-mash of methods culled from all her training and experience to help every kid shine as an individual. She founded and directs ImprovEd Arts, including the ImprovEd Shakespeare and Girl Improved projects. She has written, produced and directed more than fifteen ImprovEd Shakespeare productions, in addition to creating web videos that document and market the process of working with kids.
H.CHERDON BEDFORD, Director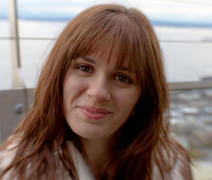 H.Cherdon (the H is silent) is an Austin-based Creative Superhero, director, artist, actress, writer, photographer, video producer and creative coach. She's Creative Producer at Humblebee Media, the company she runs with her partner, Brandon. She designs logos, websites, posters and more. She's also the Director of Austin Film Meet. Her latest web series, in which she produced, directed and hosted more than 90 episodes, features Austin food trucks. She loves to travel, and now, she's a new mom!
Cancellation Policy: Cancellations will be refunded amount paid less a $50 processing/registration fee and a prorated amount for any classes attended. After the second week of classes, there will be no refund.
ImprovEd Arts reserves the right to cancel the class for insufficient enrollment. If this happens, all tuition paid will be refunded in full.
Photo Clause: All ImprovEd Arts rehearsals and performances may be photographed or filmed. Your participation constitutes your authorization for ImprovEd Arts to use your child's photograph, voice or other likeness with and/or without his or her initials, first name or pseudonym for purposes related to the mission of ImprovEd Arts, including but not limited to marketing and promotion in both print and electronic forms, as well as the Internet and in ImprovEd Arts videos.
Missed/Cancelled Rehearsals:

Because we are rehearsing for a performance, there will be no make-ups.
Each rehearsal is vital. Plan to attend every class, barring any emergency situation.
You will be notified by text no later than one hour before rehearsal start time if inclement weather causes a cancellation.
ImprovEd Arts is not responsible for any lost, damaged or stolen personal belongings.
Save
Save
Save
Save
Save
Save
Save
Save
Save
Save
Save
Save
Save
Save